Tanjore Paintings Set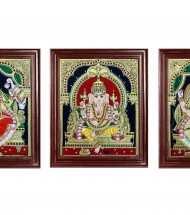 Tanjore Paintings Set:
These set of Paintings were made for Pooja Rooms in Home and Office with utmost uniformity. We offer this is best rates with good quality. We do take custom pooja room orders according to the need of each and every customer. For details call us @ 9597999274.
Tanjore Paintings Materials:
22 Carat Original Gold Foils, Plywood, Cloth, Paints, Semi-precious stones, Arabic gum, Chalk powder and Teak wood frames. Unbreakable fiber glass to avoid damages. Gold foils are obtained from goldsmiths directly in the form of leaflets.
About Artist:
Tanjore paintings are made by skilled artisans and traditional artists dedicated for Tanjore Paintings and it involves dedication and creativity.
The Paintings are 100% handmade and natural also known as Thanjavur Paintings. Common sizes are 6x8, 8x10, 10x12, 12x15, 16x20, 18x24, 20x16, 24x18, 30x24, 36x24, 48x36 (all in inches) up to 6 feet. Frames are customizable.